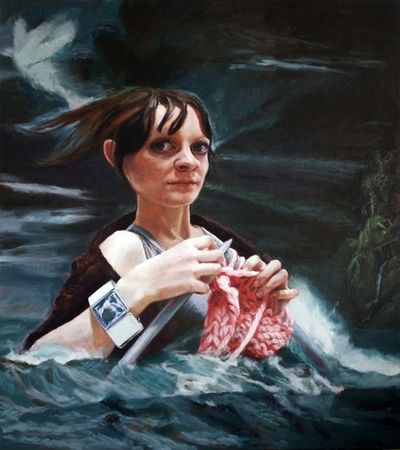 Christine AERFELDT,
Ocean knitter (2008)
(Oil on linen canvas, 180x160cm)

As previously announced, here is the second part of the Trilogy of the Knitter (as yours truly ;-) chose to name this triptic)
Christine Aerfeldt is an Australian artist. This painting is part of a series depicting women engaged in activities traditionally thought of as "feminine", series in which the artist revisits, with a contemporary vision, historic Dutch paintings representing women at work. To see the first painting of the series, click here. Next week, we'll present you with the third and last part of the trilogy.
Translation by Anna MURATORE.

•΄¯)¸.•*°*•.¸(¯`•
Did you enjoy this article? Then, you'll love this one:
The Trilogy of the Knitter by Christine Aerfeldt (1) : Avalanche knitter.