Before you start reading, get into the mood...
To mark the recent release of the digitally remastered whole Beatles collection, Melu, who's definitely a big fan, will tell you a story...

This story takes place in 1964, as the Beatles were visiting Australia for their first tour there: Mad Mel, a local radio show host working for 2SM, came up with a grand idea. He asked his listeners (especially female listeners) to send him rectangular patches of knitted yarn, which would later be assembled to form a giant scarf to be presented to the band from Liverpool. Mad Mel got more than he had bargained for. The station was swamped with pieces of yarns totalling over 30 feet in length!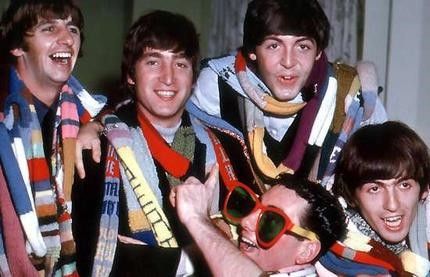 The Beatles, Mad Mel and the giant scarf !
Today, Mad Mel still owns this scarf, which has been estimated at 10.000 $.
Translation by Anna MURATORE.