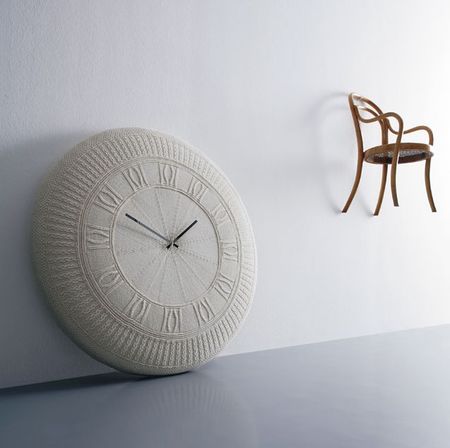 Carlo and Benedetta Tamborini are a couple of designers who have created the clock Gomitolo (= the yarn ball), for Diamantini & Domeniconi. The clock is available in two sizes, standard (ø 50 cm) and large (ø 90 cm), and 6 colours (white, beige, red, blue, mocha, dark brown) to fit all sorts of interiors and your mood of the day... This clock will surprise you by its huge size, but as it is entirely made out of cotton, it will bring to your interior the warm and soft touch typical of most knitted garments.
Can be unfolded and machine washable.
Price: 189 € (standard size) and 379 € (large size).


So, how do you like it?
Translation by Anna MURATORE.

•΄¯)¸.•*°*•.¸(¯`•
Did you enjoy this article? Then, you'll love this one:
Madieke Fleuren, the girl who knits porcelain.