Today, 24th November 2009, Mélusine tricote... is celebrating its 2nd birthday! Do you remember the first ever post ?
To thank you for your support and loyalty, I have decided to organise a contest through which you can win lots of presents.

•΄¯)¸.•*°*•.¸(¯`•
RULES IN 4 QUESTIONS :
"THE NEW GENERATION KNITTER"

1. WHO? (Hey, Mélu, am I allowed to participate?)

Everybody! Everyone can take part, wherever they live, anywhere in the world. Except, that is, the judges.

2. WHAT? (Well yeah, what are the prizes?)

Tons of things! Mélusine tricote... and Bergère de France will reward 10 winners in total. The complete prize list is available here.

3. WHEN? (The dates, s'il vous plait!)

The contest will take place in 2 stages:

● First stage :
From 24th November (today) to 13th December, midnight (French time), you think, create, imagine and let me know about your participation. In order to do so, you just need to post your proposal on your own blog, including the banner below, and a link to this message. Then you send me an email with the URL of your post, so that I can list your participation in the post on 14th December. Your entry will only be valid if all these conditions are fulfilled. If you don't have a blog, you can send me your participation by email.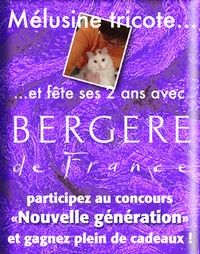 ● Second stage :
On 14th December, I write a post recounting all your entries, then I open the votes. You vote, and get your dad, mum, friends, uncles, aunties, brothers, sisters, colleagues, the postman, the GP, the dentist, the cat, the dog... everyone to vote to support you. The votes will be cast until midnight, 20th December (French time).
The 10 winners will be revealed shortly before Christmas (this leaves time for the jury to discuss the entries, and for me to count the votes).

4. HOW? (So please explain, Mélu: how are the winners chosen, and what do I need to do to take part…)

The winners will be decided both by the Internet users' votes, and those of two expert juries ;-) (for the composition of both juries, please click here). The votes will be split as follows: the organisers' decision and that of the "Jury of the Five Continents" will each count for 25%, and the Internet users' choice for 50%. In case of a draw, the Internet users' choice will prevail.

Taking part couldn't be easier. You just need to explain your idea on the following theme: "The new generation knitter ". Why new generation ? Because the people who read my blog (you!!) use the new communication means, they email each other, they blog, they chat, they actively take part in forums, they look for inspiration on the Web, they exchange tips and ideas on Facebook and Twitter, they get lost on Ravelry, and they order yarn on the Internet! "New generation" knitter isn't a question of age, but a frame of mind. You just need to be connected! ;-)
You can express yourselves on your chosen support: photo, drawing, movie, text, audio support, everything is allowed, as long as it is decent, of course, and can be posted on a blog. Then you process as explained above. That's all!
Notes to avoid any confusion :

The judges are untouchable ;-)
The potential custom charges are to be paid by the winners.
Mélusine tricote... and Bergère de France decline any responsibility in the event of parcel loss by the delivering companies…
I count on you to take part!
Translation : Aurélia Reymond-Laruinaz.