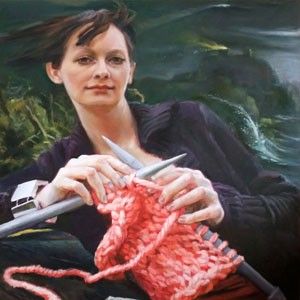 Christine AERFELDT,
Storm knitter (2008)
(Oil on linen canvas, 120x120cm)

After the Avalanche Knitter and the Ocean Knitter, I now present you with the last part of the trilogy of the knitter, hence the Storm Knitter.

Once again, Christine Aerfeldt is an Australian artist. This painting is part of a series depicting women engaged in activities traditionally thought of as « feminine », series in which the artist revisits, with a contemporary vision, historic Dutch paintings representing women at work. To see the first two paintings, click here and here.
Now that you have seen these three works of art, I would like to ask you (yes, yes, don't be shy, now) what you think of them: Among these paintings, that I unofficially baptized "The Trilogy of the Knitter", by Christine Aerfeldt, which one do you prefer?
Please cast your vote here before and up to September 24. See you on the 25th to discover the winner!
Translation by Anna MURATORE.

•΄¯)¸.•*°*•.¸(¯`•
Did you enjoy this article? Then, you'll love this one:
The Trilogy of the Knitter by Christine Aerfeldt (2) : Ocean knitter.
The Trilogy of the Knitter by Christine Aerfeldt (1) : Storm knitter.